The saw mill
With our saw mill we are keeping a long tradition of our region.
Yearly we are cutting around 18 000 cubic meters pines of round timber from spruces, firs and pines into sawn timber. Already at buying we attach importance to the correct assortment and quality.
The connection of long communicated knowledge and funded training of our staff is the basis for high quality products, which are subsequently treated in our own planing factory to refined products. Also at the manufacturing of construction timber we satisfy our customers' needs. The main part of the sawmill by-products, like saw dust and wood-chips, are used in our district heating plants.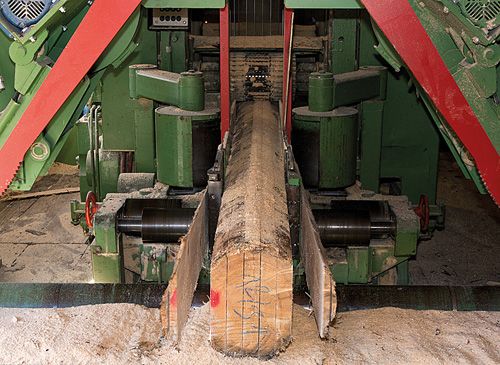 Reciprocating saw
The planing and shaping plant
In the drying chambers we dry the sawn timber for further processing in the planing factory to the correct wood moisture. From spruce, pine and larch we plane a variety of different profiles – among others also very complex shapes – and subsequently we cut them on our optimized miter-saw with millimeter accuracy.
Due to our own shaping plant, we are able to create every desired profile; however you wish to form your wood. Therefore you just need to send us a plan of the favoured profile.
Due to our flexibility in production we have the potential to fabricate not only for individual requests, but also high volume requests from major customers. On the one hand we provide with our concepts of planing and cutting, products for your further processing, which can be accurately fitting integrated in your production line. On the other hand you receive from us commodities with high quality for a big variety of construction and individual needs.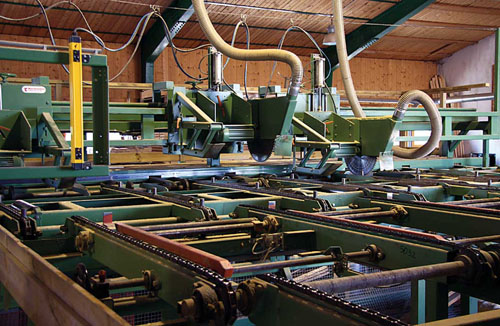 Fully automated planing
Impregnating
Our impregnation process is increasing the life time of wooden products due to higher weather resistance.
For impregnation we use a chromium-free impregnation material, which is pressed for some hours with high pressure (9-10 bars) directly into the wood. Thus, we reach a uniform distribution of the impregnation material in the soakable part of the wood.
Generally speaking, impregnation under pressure reaches a more uniform distribution of the material than non-pressure impregnation methods. The penetration depth is variable and depending on the type of wood used.
Regarding wood for construction and deck flooring, impregnation is mainly used for the domestic kinds of wood; spruce, fir, pine and larch.
Especially the scots pine is due to its wide, radial cells well suited for this technique ("resistance class 1-2") and gains significance for application out-of-doors.
Formholz guarantees impregnation of highest quality and emphasises its activities with an impregnation protocol.
The advantages of our impregnated wood:
Permanent resistance without further care

The impregnation material is not able to be washed off

Quality proofed

Biological harmless for humans, animals and plants

More efficient than surface treated wooden products
Colours: green, brown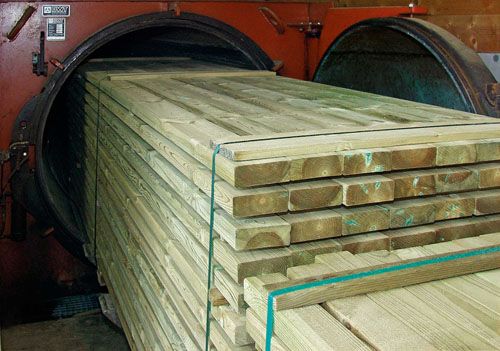 Boiler pressure impregnation with green colour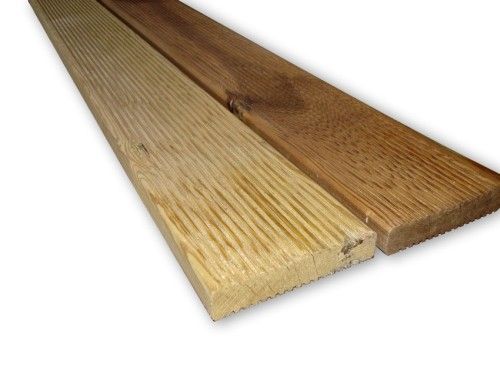 Impregnated wood – green / brown
Brushing
Brushed wood grants the special character of the rural attitude of life.
Thanks to this special treatment, the wood achieves a distinctive structure and visual appearance.
With the brushing technique, the softer parts of the woods are brushed away and therefore the harder parts, that is, the annual growth rings are foregrounded.
With this process step the wood gains a more robust surface against mechanical strains. In addition, due to the abounding patterning, the wood receives a rustic effect.
It is useful to treat the brushed surface with special oil after the installation.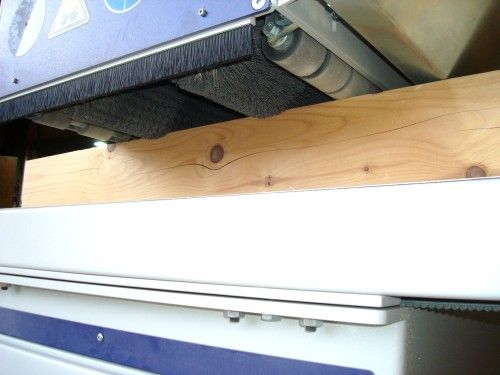 Brushing machine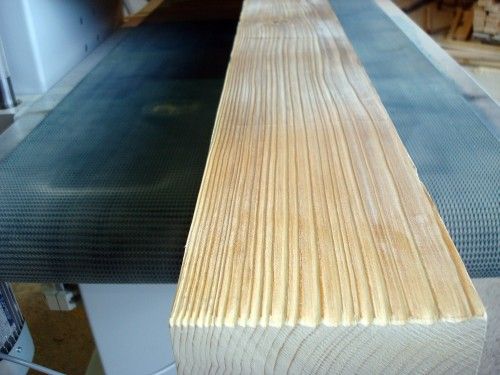 Brushed wood